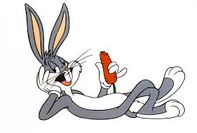 Bugs Bunny is a character that appears in looney tunes series. He always ends up winning against handfuls of enemies and foes.
Appearance
Edit
Bugs is an anthropomorphic gray hare, famous for his relaxed, passive personality, pronounced Mid-Atlantic accent (Mel described the voice as being a mixture of Brooklyn and Bronx accents[1]), depiction as a trickster, and his catchphrase: "Eh, what's up, doc?" (usually said while chewing a carrot).
Personality
Edit
Bugs Bunny is able to outsmart anyone-including Daffy Duck and Elmer Fudd. Bugs has also had many girlfriends over the years. Most recently Lola Bunny and Honey Bunny.
Bugs has appeared in more films (both short and feature-length) than any other cartoon character, has his own star on the Hollywood Walk of Fame, and is the 9th most-portrayed film personality in the world.